Chuck Murphy: "Peace Be With You" CD/Digipak
CD Design / Packaging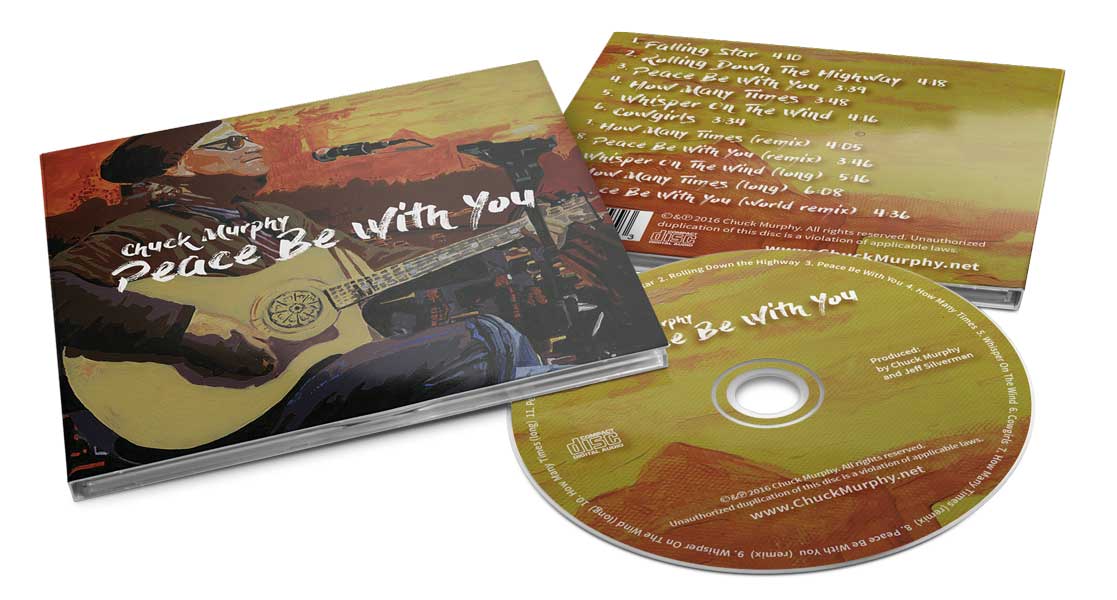 This is my second design project with Chuck Murphy. My first was a Country CD for E.J. Dease, an artist that Chuck was working with on his label, One West Music. He wrote/co-wrote and co-produced most of the songs on this project.
Peace Be With You hit No.3 on Billboard's Folk Americana chart in the Fall of 2016 and included three #1 hits on SoundCloud® with over 22 million listens to the song, Falling Star, which also held the #1 spot on SoundCloud's country chart for six weeks and the #1 spot on SoundCloud's folk and singer-songwriter chart for two weeks. Peace Be With You also had two nominations in the prestigious Hollywood Music in Media Awards (HMMA): Falling Star, was nominated in the category Americana/Folk/Acoustic Song and the title track of the EP, Peace Be With You, in Singer-Songwriter.
James McQuiston, Neufutur.com says, "Chuck Murphy's "Peace Be With You" is a timeless piece of Americana, tying together the smoothed-out sounds of seventies' rock, country guitar, and a whole heap of charisma to make for a delightful outing. Murphy's vocals are unparalleled, possessing a familiarity while being wholly unique. The multiple vocal layers on Peace Be With You give a certain substance to the single; the story told within its four minutes is much greater than what typically resides in a song. With hints of Warren Zevon and Tom Petty, Chuck Murphy succeeds with his latest work."
"Peace Be With You" was produced: by Chuck Murphy and Jeff Silverman and includes remixes: produced and additional recording by Jeff Silverman/Palette Music Studio Productions (MSP). All songs were written: by Chuck Murphy/BMI with the exception of "Falling Star" by Chuck Murphy & Tedd Baron.

For more info. please visit:
www.chuckmurphy.net
DLS Graphics: Creating your unique vision for print & web.