Printing 101
DLS Graphics: Nashville | Mt. Juliet | Lebanon, TN
Not only can DLS Graphics help you design your printed items – we can also handle the printing for you!
We can coordinate printing for anything you may need such as business cards, letterhead, banners, promotional items, etc., no matter how complex. We have access to numerous trade printers that allow us to be very competitive in our pricing. The goal of DLS Graphics is to be the "go to" place for all your printing needs, "creating your unique vision" and making sure that you receive the best quality product, pricing and turn–around time possible!
Below is an example of Palette Music • Studio • Productions' business card that shows printers marks that are used during the printing process.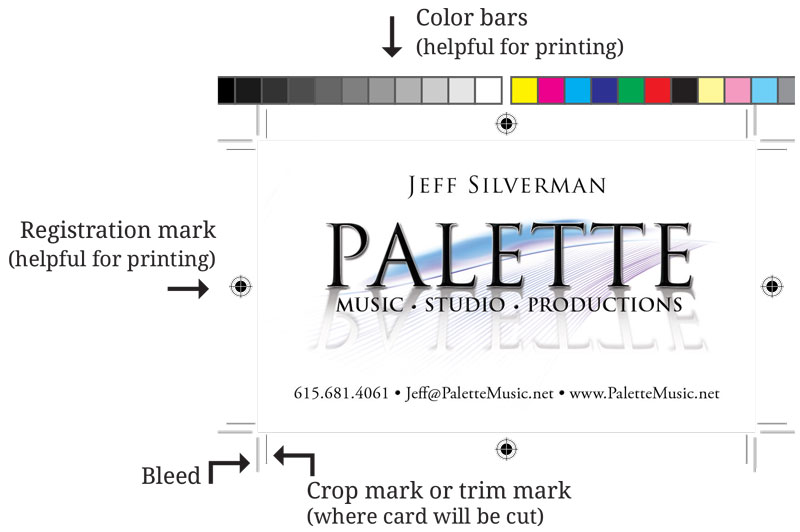 Printing Specifications — What exactly is "Print Ready?"
Even though printing isn't necessarily "rocket science," there can be a number of different specifications in the way that a file needs to be submitted for printing. A few of these items are as follows:
Correct Color Separations:
In printing, colors are specified as CMYK: Cyan, Magenta, Yellow and Black or specific color mixtures known as Pantone or PMS colors. It is extremely important to make sure that all colors are set up to print correctly. Colors can be set up in a variety of configurations: single color, 2 color, 3 color, 4 color (also known as full color) or a combination of CMYK color and Pantone color(s).
Bleed:
If you have an item where the color or image goes all the way to the edge or edges, in print terms this is considered "bleed." The way this works is that your file needs to be set up so that it is slightly oversized. During the finishing process, this excess area is cut leaving you with a final product where the image or background goes all the way to the edge.
Resolution:
Resolution for print is VERY different than what you would use for a website. Most website images will look fine at a resolution of 72 dpi. This same image would be fuzzy and pixilated if it was printed commercially. The standard print resolution is 300 dpi.
Templates:
Certain trade printers require files to be submitted in their specific templates. An example of this would be for a CD project where you may have a disc, a booklet and a traycard. Templates are set to the size that the vendor requires and usually include cropmarks and other helpful information for both the designer and the printer.
These are just a few of the items that make a print job "Print Ready." DLS Graphics will ensure that your file is set up correctly to keep your job on time and on budget.
Please keep DLS Graphics in mind for your graphic design needs and printing services!
DLS Graphics: Creating your unique vision for print & web.